Corbyn and Nine Other Pop Culture Hitlers That Headlined At Glastonbury
Corbyn and Nine Other Pop Culture Hitlers That Headlined At Glastonbury
I could just see him. I pushed my head above the crowd at Glastonbury like a drowning rat desperately surfacing for air. He looked resplendent: his little moustache neatly trimmed, his armband secured tightly, and his Schutzstaffel hat tilted just slightly toward stage left. The crowd began to chant as he recited the final lines of Percy Bysshe Shelley's The Masque of Anarchy.
'Oh, Jeremy Corbyn! Oh, Jeremy Corbyn!' came the cries of the beleaguered youth as they desperately clung to the only politician that didn't seem to be drowning in the tidal waves of shite that spews forth from Parliament on a daily basis.
'…Rise like lions after slumber, in unvanquishable number'
My breath caught in my throat.
'Shake your chains to earth like dew, which in sleep had fallen on you: ye are many – they are few!'
It was the single greatest thing I had ever seen. Possibly, even, the greatest thing I will ever see. As I left the stage, I picked up a copy of Jeremy's new book Mein Corbs. £5 well spent.
When I awoke the next day, I decided to scroll down my Facebook feed. I passed the usual things: pictures of vegan breakfasts, complaints of inequality and unfairness, my favourite ultra right-wing memes – all the good stuff.
One meme, however, particularly caught my eye.
It was this post published by pro-leave page Goodbye EU  (picture can be found below if you don't want to give traffic to these f— friendly people) that compared Corbyn to Hitler for being popular and doing a speech on a stage.
So special thanks to Goodbye EU for the outlandish inspiration for this article.
1.) Jeremy Corbyn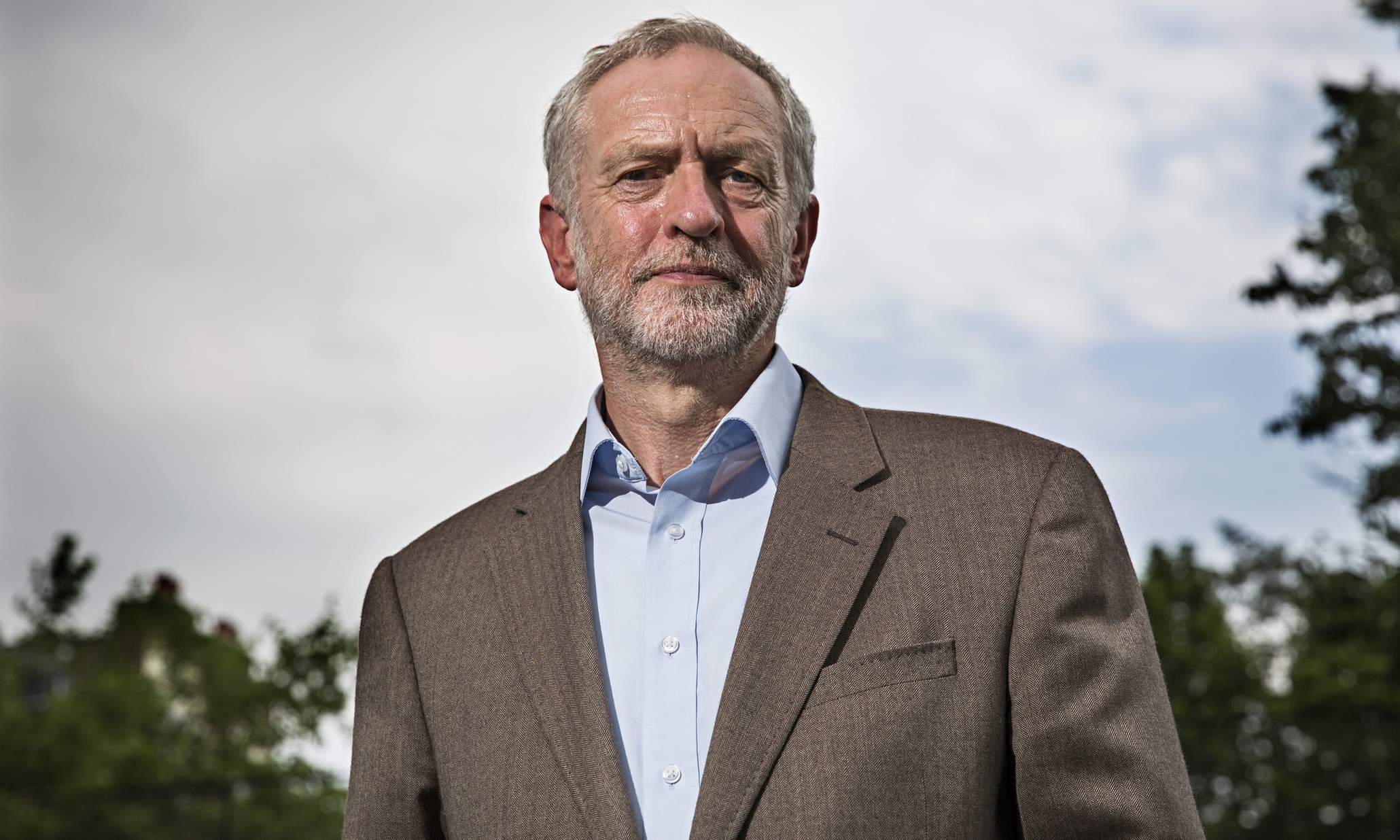 Everybody's favourite love-to-hate-to-love left-wing socialist Jeremy Corbyn has actually appeared at Glastonbury long before his speech in 2017.
In 1999 Corbyn brought his politpunk-rock band, The National Socialists, to Glastonbury for one Special Brew and marijuana fuelled haze that would last an entire summer. This was also the summer in which the Corbabes (Corbyn's personal orgy group) made headline news by collectively fellating Nelson's Column.
But all this drug-fuelled fucking and guitar shredding was actually a cover operation for Corbyn to use the MK.I prototype of his youth-hypnotising ray to create an army of angry young people. A 'Corbyn Youth' if you will. It failed, and just left most of the crowd with the smell of burning toast lingering in their nostrils.
They all died in the subsequent weeks due to rapidly developing brain tumours caused by extreme exposure to radiation.
Fast-forward to 2017: Corbyn has finally perfected his 'Corbyn Youth' ray, and has used it to great effect to stir up political unrest and a hankering for the return of The National Socialists. Latest news has indicated that Corbyn and the rest of The National Socialists (Carly Rae Jepsen, Sting, and Marilyn Manson) will be getting back together under the shortened moniker, The Na Zis.
2.) Greta Gerwig
Greta Gerwing, best known for her roles in Noah Baumbach's Frances Ha! and Mistress America, is due to star in a new autobiographical movie of her own this year.
Gerwig took to Glastonbury's Pyramid Stage to announce it just two hours before Corbyn made his appearance.
Her speech started thus: 'Hi all! It is I, Greta Gerwig. I am her to bless you all with my ephemeral beauty, and I am also here to tell you all about my new autobiographical movie coming this winter. In this movie I will be reprising my role as me, in my own life, doing all the embarrassing, inspiring, and just plain horrendous things I've ever done.
'Stephen, roll the clip!'
A screen dropped down next to Gerwig, and a trailer began to play. The crowd were shocked into silence by the pure emotional gravity of what they were seeing. Gerwig was there on screen, living her tough life as a little boy born in Austria. The tone of the trailer shifts to despair as Gerwig struggles to make a living as an artist, only to be told that she should give it up. The tone shifts again, the orchestra strikes up a victorious chorus as Gerwig steps out onto the screen as a leader, his trademark moustache and weird hair that flops to one side blowing in the wind.
The trailer cut to black and Gerwig walked back into the stage lights.
'I hope you all come to see my autobiographical film, I, Hitler!, coming this winter!'
3.) Barack Obama
You may be thinking 'how the hell is Obama a pop-culture Hitler?' Well, what I'm about to write may shock you, may confound and appal you. If you are of a sensitive nature, please stop reading now.
Both Hitler and Obama held rallies in outdoor stadiums.
Your move, Obama. Your move…
Oh yeah, and one of those outdoor stadiums was Glastonbury or something.
4.) Bear Grylls
If you don't believe that a man who eats bear shit for a living isn't capable of being Hitler at Glastonbury, then I don't believe that you're a human being.
5.) Rebecca Black
Some people say that Rebecca Black sold her soul to the devil for her musical prowess. Others say that she made a pact with the Egyptian God of desert, storms, disorder, and violence in order to play the greatest autotune. Corbyn says that she supported Bernie Sanders and that is good enough for him. Only one thing is certain; Rebecca Black is a pop-culture Hitler.
It started when she was very young. From the age of six her father would continually shave her upper lip to get rid of the trademark moustache. At nine her mother would put hair extensions in to keep her from looking too Hitlerish. At seventeen she could only speak in German and sing in American English.
The only way she could convince the world that she wasn't born to be the next big Hitler was to sing, and sing she did. She sang from that convertible in Friday, she sang from the Valley of the Kings, she sang her way to Glastonbury.
And while she was there, people compared her to Hitler anyway.
6.) Ellen DeGeneres
Ellen DeGeneres won the Nobel Peace Prize for being genuinely lovable. She is such a wonderfully likeable person that I almost don't want to reveal her deepest darkest secret.
Deep down inside, in the darkest corner of her unicorn-rainbow heart, is a little baby Hitler. Caged in a sugarcane prison and guarded by the Thumb-Thumbs from Spy Kids, Ellen's little Hitler has never actually been able to fully surface.
Alas, there is darkness in everyone's heart, and while headlining Glastonbury in 2015 she did a wave that could almost have been a Nazi salute. And therefore, Ellen is a pop-culture Hitler.
7.) Vin Diesel
Vin Diesel. Diesel. Diesel is fuel. Fuel consumption is bad for the environment. That's not a good start for good ole Mark Sinclair (his real name).
When Mark isn't driving fast cars, polishing his noggin, or trying to put the triangle block into the circular hole, he's actually practising his next stand-up comedy set to perform at Glastonbury. The folks at The Other Stage haven't the heart to tell him that Glastonbury isn't for stand up comedy, so let little Vin go about making his 'jokes' for an entire hour every year.
One audience member said that listing to Sinclair's comedy is a little like 'shitting glass', while another audience member hadn't been able to remove the fingers he pushed into his ears in an attempt to stop listening. A spokesperson for Glastonbury Festival has said that Mr Diesel was the 'Hitler of stand-up comedy'.
8.) Chance the Rapper
Nobody has put their stamp on pop-culture in the way Chance the Rapper is. Despite not being on a major label, he has gathered a massive following and sold a lot of albums through non-traditional distribution methods.
But since partnering with Nike, he's fallen in with the likes of Kanye West. In The Bible it says: 'Thou who shalt collaborate with Kanye of the West without being on a major record label, shalt signal the next coming of Adolf Hitler.'
For once The Bible was right, and this year at Glastonbury Chance the Rapper did indeed announce that he was the second coming of Adolf – though most people mistook this as a publicity stunt.
9.) Peppa Pig
Who actually conceived the idea for wildly popular children's show Peppa Pig? If you google it, you'll find no answer. It is not in the public knowledge as to who conceived this masterpiece, but we here at Verbal Discharge can tell you.
The man who created this porky monstrosity is none other than ladies' man, Jeremy Corbyn.
Corbyn created this program to indoctrinate the British youth into a communist way of thinking. Spreading disgusting messages like being kind to people and sharing what you have with those less fortunate. One episode, called Comrade Peppa and the Social Justice Warriors, actually followed Corbyn's departure from the stage at Glastonbury.
Reports of people posting messages of solidarity for members of the LGBTQ+ community, people from other cultures and races, and tolerance for all were quickly picked up by the Conservative government following this episode.
Theresa May released a statement saying 'Peppa Pig is a pop-culture Hitler, you shouldn't listen to this filth. You should listen to only me and the right-wing Facebook pages that I have personally approved.'
Anyone Who Makes Flimsy Comparisons Between Popular Celebrities/Politicians And Adolf Hitler.
People who make flimsy comparisons between people they don't like and Hitler, are Hitlers. They're Hitlers because I don't like them and, therefore, I am comparing them to Hitler.